Two excerpts of note from the National Security Agency Report of 1981 are shown here with highlighting added for emphasis. First, the opening paragraph of the Forward (page vii; page 7 of PDF) shows the position of the NSA on the Liberty incident.
In previous declassifications of the NSA report, a part of a paragraph on page 64 (page 72 of PDF) of the report had been redacted. In the 2 July 2003 declassification of the report, the full text of this paragraph is revealed. The paragraph is shown as it appeared in the respective versions of the report.
2 July 2003: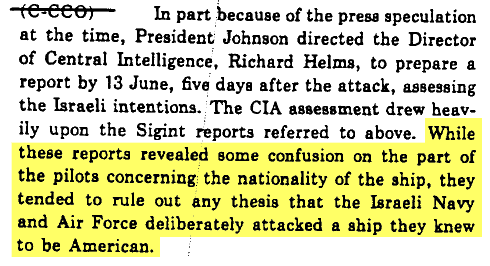 Prior version: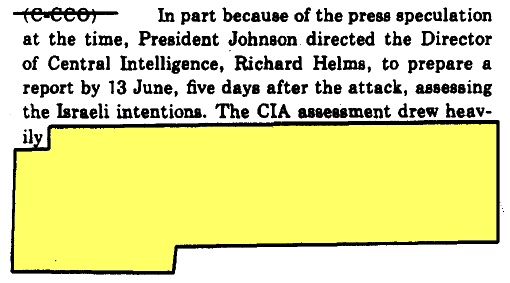 Readers wishing to authenticate these excerpts should download the report directly from the NSA website.
Other documents available from the NSA website include:
Recording "104" (32.8 M WAV file) from 1229 to 1244 GMT on 8 June 1967 with translated transcript (8 M PDF)
Recording "105" (76.3 M WAV file) from 1247 to 1319 GMT on 8 June 1967 with translated transcript (2.8 M PDF)
Recording "130" (13.6 M WAV file) from 1307 to 1311 GMT on 8 June 1967 with translated transcript (824 K PDF)
Follow-up Report No. 1 (1.3 M PDF) from 0831 GMT 9 June 1967
Follow-up Report No. 2 (552 K PDF) from 1422 GMT 9 June 1967
Summary of Attack on Liberty (5.5 M PDF) from 22 June 1967